I have made minor edits to a letter I composed to President Christina Paxson of Brown.
I thank you in advance for your attention to this long email. I am requesting an audience with the university to challenge my expulsion, as previous meetings and appeals have all been canceled.
I attended Brown University's graduation ceremonies today, not as a graduate, but a non-graduate. I wanted to write this celebration of the ceremonies and to reach out to you in the kindest spirit of dialogue in hopes of resolving the roots of the issues that have led to my not graduating this year.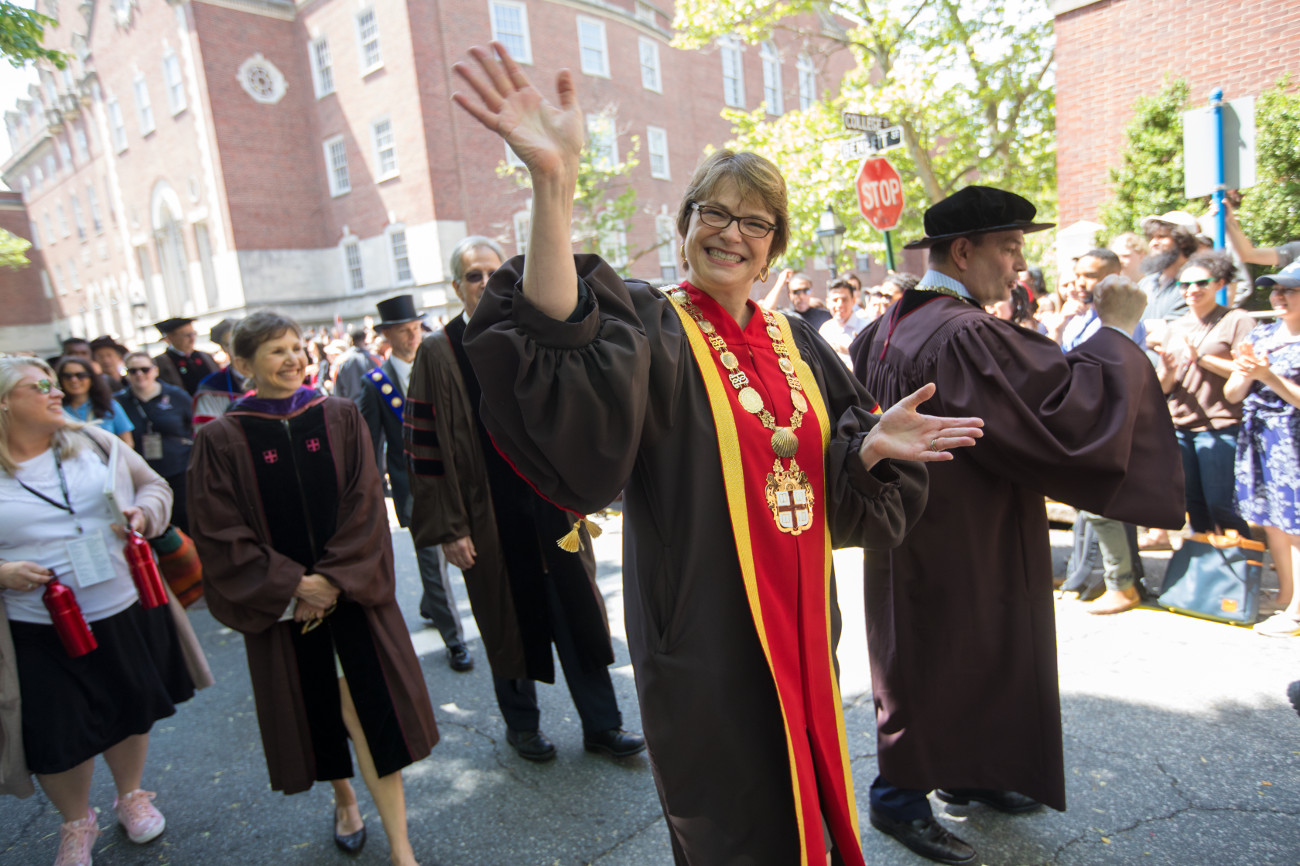 I am not acquainted with you, except with regard to a few of your open letters. I was impressed by the poise with which the university attempted to address the complex issue of sanctuary status for our fellow students who happen to be targeted by the current president for their immigration status. It was a pleasure further, today, to hear you speak more broadly to the many issues of justice that cross your desk, and the varied and activist manner with which the student body often challenges the administration to change its approach to issues of justice. It is an activist challenge, as such, that I bring to you today.
I have not been happy with the way some issues that have affected me have been handled, but I have felt throughout that though the process and results were unjust, that these faults were unintentional. As a Brown MAT in the social studies program, I encountered a political disagreement last November with one of the university's professors, my advisor. My advisor did not handle the situation well, and I sought guidance from the dean of the entire program on how to separate the relationship and seek different advisement. At that time I was mostly content with the decisions that resulted from that request, with reservations that do not rise to level of needing to be documented here.
My new advisor has been quite an honor to work with, and I have had the pleasure to learn from her guidance throughout the year. The level of trust and mutual-respect we have for one another approaches that of family.
Unfortunately, the relationship with my mentor teacher (the teacher who oversees the student-teaching process in a classroom) was more trying, and all the more so because throughout my experience I feared how my previous conflict might color perceptions of my difficulty.
There were complex threads of discord I could report. I think the most salient was the sexually-harassing environment I found at my school, the Learning Community charter school. Within a few minutes of meeting my mentor, in the stairwell before even ascending fully to his classroom, one of the things he did was introduce me to his "work wife", a teacher some thirty years his junior. I found this an odd and potentially sexist expression, but I tried to put my concerns behind me, especially as I felt pressure to cooperate with the director of graduate studies in his efforts to find me a mentor last minute after my previous advisor had refused.
Following my efforts to start at the school early, I was quickly cordoned off from the "work wife" with an admonishment from my mentor teacher that said teacher found me "too smart" for having talked about how the art some students were doing reminded me of Picasso. I apologized at that time. My mentor frequently created hostility, and this was only one thread of that experience, but it certainly became the most blatant one.
On a morning later in the term, I arrived to a locked classroom. The lights were off and there were no sounds of people inside. I took out my keys and began to open the door. Two voices (of the mentor and the teacher mentioned) yelled out in unison, "Uhhhh. Don't open the door!" I heard scrambling, the sound of pants with keys or change being moved around frantically. Stopped in my tracks, I said, "Okay. What's going on?" The reply was "Ummmm.... We're having a meeting!" There was more scrambling, what sounded like furniture moving, belt buckles clacking. To the ear of any knowledgeable adult, there was no question what I encountered.
Because I had arrived to school early to make copies, I went to the classroom of the [redacted, subject] teacher, a [redacted, gender] I got along well with, and asked to do it in [redacted, gender pronoun] room. [Redacted] said yes, but asked why I could not do it in my mentor's room. Not wanting to cause a scene, I said, "Ummm, the door is locked. My mentor and this teacher are inside, having a meeting. They said not to come in." Her expression showed clear recognition of what had happened, and [redacted, gender pronoun] said, "They're having a meeting?" With emphasis on meeting as if to question the sanity of such a story. "Umm, yeah. The door is locked." [Redacted, gender pronoun] responded, "The door is locked?" with shock. Her face said that this was a tremendously weird situation to encounter. I asked to make my copies.
Later this [redacted, subject] teacher came into the room, and with clear sarcasm said to my mentor, "So, how was your 'meeting'?" It was clear to me through the public way that my mentor carried on at school and the reactions of staff that I was not the only person who knew of this proclivity of behavior.
I have not been able to confirm this teacher's perceptions. I recognize that the evidence I offer from her is hearsay without her confirmation, and given that my school was a non-union charter and the mentor was one of the most senior members of staff, I do not know whether [redacted, gender pronoun] would confirm it. However, I state with firm conviction everything that has happened and feel certain that I am telling the full truth.
I also stated this incident to my advisor at the time, and to my partner and several close friends, as corroboration that I was thinking about its occurrence at the time. I made efforts through a strained relationship with my mentor not to mention it at school. [Redacted sentence-- personal].
On February 21st
, having not officially registered yet (originally for a financial bar), I wrote Profs. Daniel [redacted] and [redacted], cordially but sadly explaining my concerns about my professor, and offering to withdraw from the program and finish my degree at RIC. I did not state the sexual issues, though I stated other issues, such as my mentor's frequent interrogation of me as to why I was listed officially with Prof. Daniel [redacted] as my professor-of-record, instead of the social studies advisor. It was clear in these many interrogative conversations that the questions were less posed at retrieving knowledge than at exposing me as some kind of troubled presence. Due to [redacted, personal], I hastily reversed this decision to withdraw and tried to make the best of things.
I had a sit-down meeting with my mentor and advisor in early March, and though avoiding reference of the specifics, I asked my mentor to act as a liaison to the other teacher to improve relations, which he refused in front of my advisor. Nonetheless, perhaps sensing the support of my advisor, he stated that I had "turned around 100%" and done a "180 turn" to my advisor, and there was a brief honeymoon following this meeting.
Despite efforts to work through a hostile situation, I was let go March 16th.
My dealings through both of these issues have been with Prof. Daniel [redacted],
and I would like to repeat to you what I have said throughout: I find Prof. Daniel [redacted] to be a kind, honest, and thoughtful man. Though I have never seen him teach, the excitement with which my science MAT colleagues have responded to his methods has left me convinced that he is a remarkable and talented person, and it makes me very sad to think that his impression of me is so poor. Nonetheless, Prof. Daniel [redacted] had led me to believe that I could resolve this issue through the leave process, which I faithfully pursued. After signing leave papers with Student Services, the final meeting I had with the Graduate School was canceled without notice. My advisor, who has worked with the university for twenty years, rearranged her work schedule to attend, but was given no notice of the cancellation. On May 15th, Prof. Daniel [redacted] issued a letter cc'ed to a number deans, in which he outlined charges that I was academically troubled, aggressive towards others, lackadaisical in my correspondence, unprofessional and rude. He has attempted to reverse the direction of threat that occurred in the situation of academic freedom with the professor and to present me as a violent person without evidence. I would like to reiterate that I feel he has made these charges in sincere error, as every reference I have to Prof. Daniel [redacted] from my and others' experience is that he is a good man. Nonetheless, this is an injustice. I have been actively documenting my experience on my widely-read Providence blog, Transport Providence.
I spoke and wrote to Dean Andrew Campbell about this matter. I have found him to be cordial and it is my hope we will meet, though so far my meetings have been canceled. My understanding is that a number of people including Brown University professors have reached out with character references.
[Redacted paragraph-- personal]
In closing, I would like to highlight some things that were meaningful to me about today's ceremonies. After a very frustrating set of events has left me where I am, I was not sure how I might feel being at commencement as an audience member. I was surprised to find the success of my fellow graduate students joy-inspiring, and I am thankful to many of them for navigating a very socially-awkward situation to reach out to me with kindness. Not all of the graduating class agrees with me, but to my knowledge not one has any reason to challenge my integrity, and many have stated support.
I was also particularly struck, Madam President, by your speech. I tweeted one line of it in particular (@transportpvd), that we should do what is right "even if it breaks social mores" to do so. Many times in this process I've been called to do exactly that. I hope you will take my challenging letter as an expression of faith in your words.
I was further impressed when one of the undergraduate speaker who focused on the limited efficacy of challenging immigrant bans through educational meritocracy. His reminder that we must respect the rights of all regardless of their educational status is a high ideal indeed.
I come to you without a degree, and with a rather scary letter written by a deservedly-respected administrator of the university declaring that I am a menace. I appeal to the ideals you stated today in your well-worded speech to grant me the ability to set up an alternate student-teaching placement, or to allow me to withdraw without fault or debt for a degree I worked hard to earn but was not able to receive. These decisions have been made without due process, and against the advisement of many university faculty. I deserve a chance to defend myself. The letter and this course failure defame me for having brought issues appropriately to the attention of the university.
Again, Madam President, may I close this letter with sincere respect.