We can't take action to stop Trump without stopping Trump's infrastructure plan. Tell Sen. Sheldon Whitehouse to stand up. No new money until we get a fix it first policy as law.
An impressive group of demonstrators marched from the Statehouse to Nathan Bishop Middle School, where Senator Sheldon Whitehouse took questions inside and outside of the school.
I asked Senator Whitehouse whether he would stand up for climat
e change through our transportation policy, and he gave a clear no. Give Sheldon Whitehouse a call and tell him to
stand up, and just say no to Trump's planned infrastructure spending debacle.

DC Office: 202-224-2921
Rhode Island Office: 401-453-5294

Infrastructure is poorly understood by the public. It's true that our roads
and bridges are falling apart, and desperately need work. It's also true that we have poor rail service, and very dilapidated biking and
walking facilities. What is not understood is that we spend more than half of our federal transportation money on expansion and new facilities, rather than maintaining what we have.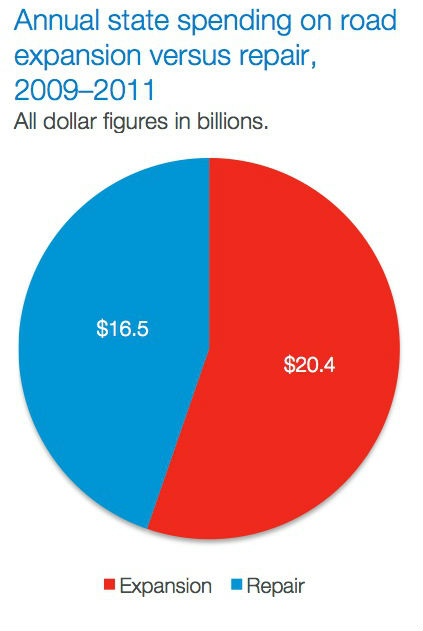 Donald Trump's infrastructure spending proposal has lots of problems, but the biggest core problem is that so long as state DOTs get new money without a method of holding them accountable to a Fix It First policy, they will spend on boondoggles to expand roads.
Expanding roads does not help traffic congestion, it worsens it. And expanding roads means that we have more to maintain. The new money from the feds is free, but the states and their local counterparts have to maintain facilities for decades to come. That's not free.
Most shameful of all, Sen. Whitehouse used the 6/10 Connector as an example of why we need more money for our roads. Sen. Whitehouse was a key voice in opposing the boulevard option, which would have been far cheaper than other options for the 6/10 Connector. That option had bipartisan support in the Statehouse, but our supposed climate champion couldn't be brought to back it. Sen. Whitehouse is also currently standing with the entire Rhode Island delegation for a proposal to expand I-95 on very shaky engineering grounds. We need our Rhode Island delegation to stand strong on infrastructure by not adding to our unpaid liabilities.
— Tim Faulkner (@ecoRI_Tim) January 29, 2017
We need to say no, too, because Donald Trump loves to spend on things he has no plans to pay for in the future (think: casinos in Atlantic City that go belly up). Trump will have no problem floating large amounts of federal debt to create temporary jobs and the appearance of progress, only to leave us all on the hook for the financial, social, and environmental problems that result. Authoritarian leaders often use infrastructure as a way of getting support.
Sen. Whitehouse deflected my question by saying that we need to spend more on rail, and of course I would love to see our rail system improved. But the Amtrak Northeast Corridor is self-sustaining. When senators and congressmen add token biking, walking, or transit provisions to a budget that is mostly about expanding highways, we're getting short-shrift.
Ask Sen. Whitehouse to hold Donald Trump accountable: no new money until we have a ban on road expansions with federal dollars. Fix it first! No new roads!
~~~~