Streetfilms has a great new piece on Copenhagen's many bike and pedestrian bridges. Blogger blocks me from embedding non-Youtube videos, but check out the link.
Where's the Pedestrian Bridge?
Dr. Timothy Empkie (Twitter @42HopeStreetBus) has been keeping weekly progress reports on our own pedestrian and bike bridge.
Weekly Progress Report #27#PVD Ped Bridge



The bridge is five years behind schedule.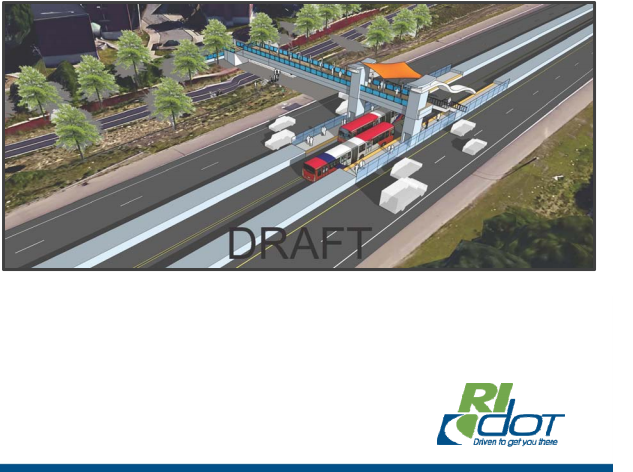 RIDOT's plan requires rebuilding nine highway bridges, and adding several
skyway bridges. The boulevard plan needs fewer and shorter bridges.
RIDOT continues to publicly pursue the rebuild of the 6/10 Connector, a billion dollar project that will require nine bridges. The boulevard plan proposed first by Moving Together Providence and now supported by the community group Fix the 6/10 allows those bridges to be greatly shortened, saving money. RIDOT's plan is nine bridges to nowhere.
In addition, RIDOT's plan calls for skyway bridges to connect BRT stops, while the boulevard allows bus riders to simply cross the street at-grade.
The Boulevard proposal allows for cheaper and more attractive ways to connect people.
The City of Providence will be hosting a community discussion on 6/10 August 30th (see the bottom of the page). Please attend.
A Bikeway to Nowhere
I'm not a fan of the plan to build a 0.7 mile bike connection between the East Bay Bike Path and Blackstone Blvd. At $2.5 million, this project is a drop in the bucket compared to many car-oriented projects, and ultimately I agree it will make a nice recreational addition to the city's biking opportunities if built. But for the same amount of money, Providence could have a lot more protected bike lane infrastructure in more useful locations. Minneapolis is building 30 miles of protected bike lanes for $6 million. That project includes changes to signals and other improvements that would not necessarily be required for all Providence projects (Minneapolis has bigger roads than Providence).
The argument for building this segment is that it will take people off of Gano Street, which I agree is a nightmare of nasty cars. But Gano is wide enough to get a protected bike lane. Tepid city officials are afraid to remove parking from part of the street, despite the fact that it has very little occupancy.
The path section, if built, would let out at the bottom of a steep hill on the East Side's mansion district. It's hard for me to see this as something that would connect more people to non-recreational biking, while it seems to offer an excuse not to deal with parking issues in the city.
Expressway to Nowhere
Another Bridge to Nowhere in the state is the Henderson Expressway. The Henderson Bridge (or "Red Bridge") goes somewhere, but the expressway stub connected to it does not. The state should strongly consider making the Red Bridge a car-free bridge and connecting a bike path to nearby Orlo Elementary School, which is currently bounded by high-traffic on East Providence's Broadway as well as the Henderson Expressway itself. I-195 offers many ways to get into and out of East Providence by car. Following the Dutch or Danish model would mean making some direct routes only for bikes, pedestrians, and transit.