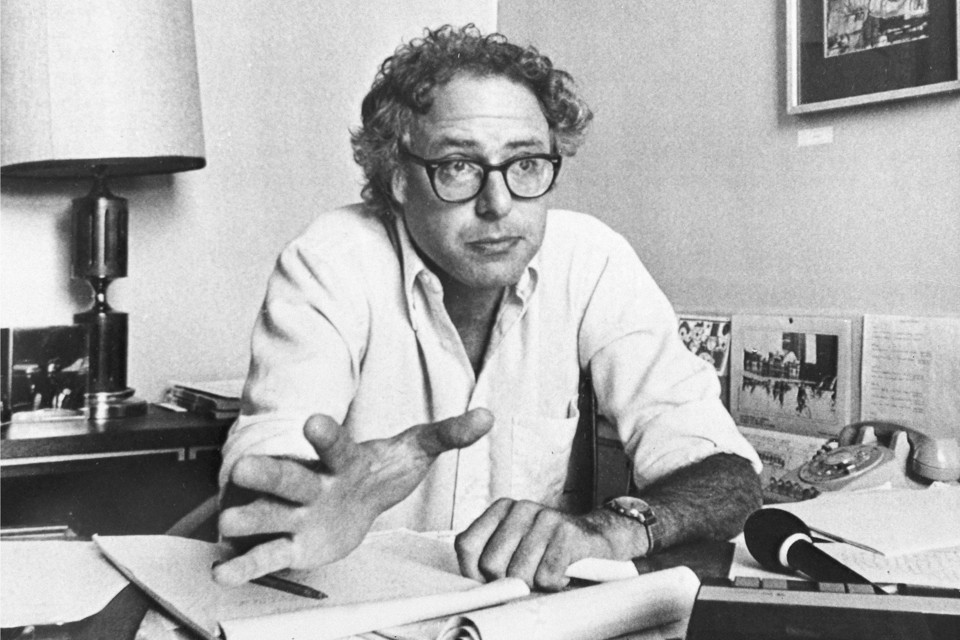 Last week, Streetsblog editor Angie Schmitt asked where Bernie Sanders stands on transportation. Schmitt started a vital national conversation about Sanders' proposed trillion dollar infrastructure spending, and asked whether Sanders—a climate change champion—might worsen transportation priorities by focusing too much on rural priorities like roads. A careful review of Bernie Sanders' track record shows Schmitt to be wrong about Sanders' priorities—he isn't road trigger-happy—but validates her spending concerns. Senator Sanders is already a strong choices for urban voters, but his campaign still needs to improve his transportation planks to account for problems in the way the United States spends federal transportation money. The call from activists is clear: Sanders must declare his administration's intentions to employ a "fix it first" policy, and outline how he will use federal power to hold state departments of transportation accountable for their incessant road expansion projects. This policy will energize the progressive voters Sanders already does well with while also attracting moderate voters who are concerned about costs and climate change.
Where Schmitt is Wrong: Sanders' is Not Road-Hungry
Schmitt's
questions
about Sanders are appropriate and come at an important crossroads in his campaign. Sanders has captured the imagination of much of the country—especially young voters, who have favored Sanders overwhelmingly, and who have shown a strong preference for urbanist approaches to transportation. Schmitt's analysis of Sanders' position comes from a look at his planks leading into the Iowa Caucuses, where Sanders tied with Hillary Clinton. Sanders mentions "rural economies" or "rural development" several times, while never using the word "city". Schmitt wonders in the article whether, at worst, the Sanders campaign is willing to sacrifice its environmental bona-fides in order to satisfy road-building unions, which would benefit from increased highway building. At best, she wonders if Sanders is unaware of the financing schemes that would produce the best transportation results.
Senator Sanders has a clear record of supporting walking, biking, and transit, and of being suspicious of auto-oriented development, so while Schmitt's query is fair, a closer look reveals her conclusion to be wrong. Senator Sanders announced his run for president with Burlington, Vermont's waterfront bike path behind him, a symbolic choice that could not have been accidental. Leading up to the announcement,
The Burlington Free Press
highlighted Sanders'
choice of venue
(video), remembering that it was a four-term Mayor Sanders who had fought to maintain the public land used to build the bike path. In the article, the Free Press encouraged attendees that "
Parking could become a challenge: The city encourages people to use the Burlington Bike Path, take the free College Street shuttle bus or walk from downtown parking garages. No parking is available on-site." No doubt, the culture that shuns cars for large events had a great deal of nurturing from Sanders. In his memoir, Outsider in the House,
Sanders highlights
(page 73) bike infrastructure as one victory from his administration: impressive, considering that very few places outside the Netherlands were thinking about bikes, much less acting to promote biking, in the 1980s. Says Sanders:
After an enormous amount of public discussion and fierce debate, we ended up with a very successful and people-oriented waterfront of public parks, and nine mile bike path, and a public boat house. Today, cyclists can travel from one end of Burlington to the other. Swimming is free of charge at any one of our four public parks. We've got some very nice athletic facilities as well. We've also developed some very innovative concepts in affordable housing.
Congressman Sanders showed his understanding of transportation priorities in a surprisingly cogent and off-the-cuff response to a
1991 Congressional roast
. Comedian Dave Barry, ridiculing Sanders' socialist proclivities, asked Sanders whether he would demonstrate his working class spirit by sharing his reserved Capitol parking space. Sanders took the opportunity to go beyond the question and to highlight the poor choices the U.S. had made in transportation:
The question was asked of me about sharing--sharing a parking space--and that's much too conservative a statement. I'm going to be bolder than that statement. And I'm going to announce tonight, before this illustrious and important audience, that I will do more than share my space. What I intend to do, at the right moment, and the appropriate moment, is to give up my space totally. . .
When the United States Congress begins the process of breaking our dependency on the automobile, when we put billions of dollars into public transportation rather than to highways and to roads. . . when that happens, I am prepared, unequivocally, to say before you, that I will give up my space.
Notably, Bernie Sanders is a
pedestrian commuter
to his work at the Senate, meaning, in fact, that Sanders did give up his parking space at least some of the time. As many transportation advocates know,
parking policy
can separate the wheat from the chaff, and Sen. Sanders followed through on this most vexing of land-use and transportation questions.
Schmitt's conclusions about the words "rural development" don't check out. On rural development, preserving "
small family farms
" (video, see especially at 13 minutes) has figured heavily in Sen. Sanders' past priorities.
Sanders' webpage
highlights efforts to reform the Farm Bill, advocacy on behalf of undocumented immigrants, and interest in food diversity and sustainable farm techniques as among is most important rural priorities. Schmitt's highway-based development just isn't there.
Where Angie Schmitt is Right: A Call for #NoNewRoads
That doesn't mean Sen. Sanders is off the hook. Schmitt's overarching point that Sanders proposes far too much transportation spending is something the campaign must address, because she's right. Sanders' campaign can put urbanist voters—whether they live in small rural towns, small cities like Burlington, or larger ones like Sanders' native Brooklyn, New York—at ease by declaring a preference for "fix it first" road policies. Currently, the U.S. spends more money expanding roads than maintaining them, so while the
infrastructure crisis
Sanders talks about is real, much of the money needed to fix the problem should come from ending these road expansions. The best model for "fix it first" has been the Strong Towns' #
NoNewRoads
campaign, but other organizations, like Smart Growth America, also have models for such a policy.
The Hill
interviewed Sanders' following his recent sponsorship of a $1 trillion transportation funding bill. The results were encouraging, but left room for improvement. Sanders mentioned transit funding and road "maintenance", but did not highlight expansion of roads, congestion, or other dog whistles that typically stand-in for highway widening. However, Sanders also said nothing concrete to rule out use of funds for road widening, however. Sanders should support such a policy, because it has become commonplace. Some state DOTs, like
New Jersey
and
California
, have moved to a "fix it first" maintenance schedule, eschewing road widening in favor of efforts to preserve the roads the states has under its belt.
Whatever his intentions, Sanders' new spending proposal could put that pattern in jeopardy. Strong Towns blog
interviewed
Urban Cincy blogger Randy Simes. Simes said ODOT, long enamored by roadway expansions, might follow New Jersey and California in choosing a fix it first stance. Simes said that ODOT was unlikely to keep that stance if it found itself awash in new money.
I wouldn't say that Ohio is a leader on this. You know, from my understanding, Michigan was the first state to go [fix it first], and then California is the largest one, and they joined the group of states who have taken this approach last year. They announced a similar type of policy. So I think you'll see more and more of this. The other thing that I would say about this announcement from ODOT is that it's, it's a bit tepid. You know? I don't think they're in this for the pure reasons of, you know, 'we want to build a more sustainable system going forward'. I think it's finances. So with that said I think that if they can expand and add capacity and pay for it using user fees, they'll do it.

(my emphasis)
Simes said he felt that more roads in return for a higher gas tax or tolls might be acceptable as a compromise. Notably, Sanders' approach to funding closes tax loopholes on corporations in order to pay for roads and transit, rather than using tolls, gas taxes, or other user-fees. Unfortunately, this would
subsidize driving
, something that is already a problem, according to U.S. PIRG. Should state DOTs find less progressive priorities than Sanders intends, the new funding stream could be the ultimate fuel-on-the-fire for climate change.
Putting more funding to transportation worries me too. As a Rhode Island transportation advocate, I have worked hard on the
Moving Together Providence
campaign, which is getting bipartisan attention for its call to remove the decrepit "6/10 Connector" urban highway in Providence, and replace it with a more affordable and green urban boulevard. The City of Providence is in strong support, and RIDOT has given encouraging words. In the back of my mind, I still worry that once Governor Raimondo's truck toll plan RhodeWorks passes, RIDOT will back off of the cheaper and greener ideas of Moving Together and just build another highway. A Sanders campaign can be used to amplify the concerns of people like me, working to rebuild cities after decades of bad planning choices, or it can remain vague on the details, and leave us all worrying.
It isn't that Sanders is wrong to want to close these corporate tax loopholes. In the
most recent
New Hampshire debate opposite Hillary Clinton, Sanders took the laudible position of demanding that General Electric—a company that currently pays nothing in federal taxes—pay its full share by ending exemptions for its nominally off-shored accounts. The question is whether transportation infrastructure is really the best use of those funds, once procured. Would a Sanders administration be able to expand tax credits for low-income families with that tax money instead? Would a Sanders administration be able to bolster its proposal for free state colleges and universities by taxing G.E.? Would a single-payer healthcare system—already expected to
save money
over private insurers—be even more affordable if Sanders forewent new transportation funds? And how might moderate voters—voters who want to steer away from Donald Trump or Ted Cruz anyway—respond to the idea of finding ways to fix bridges with the current financing the country has? Since America spends more money on expanding roads than fixing them, choosing not to put more money into transportation could be a win-win for everyone—a path chosen not to benefit multinational corporations, but ordinary citizens. It would reinvigorate an under-reported Sanders tradition: bipartisanship. Sanders
worked closely
with Republican council members as mayor, and garners
about a quarter
of the Republican vote in his own state each Senate election. Past Republican allies have said that he "out-Republicaned" them with rational policies like competitive bidding for city contracts. The New York Tines
praised Sanders
for his pragmatism, not a word often associated with the wild-haired socialist, but one that has been true to many voters over a many-decades-long career. A "No New Roads" approach would add to this pattern of fiscal conservatism mixed with social democratic ambition, and add depth to Sanders' policy portfolio on infrastructure.
Let me lay my cards on the table clearly: I am a Sanders voter. I like most of the proposals Sanders has brought forth, I find the uplifting and clean-handed character of his campaigning style appealing, and ultimately I think he is more electable than Hillary Clinton. If it comes to it, I can certainly find other reasons to vote my conscience for Bernie. But far more exciting yet would be seeing Sanders respond to this call that way his campaign has responded to other
activist
critiques:
by adapting
. I believe that Sanders will do this.
At publication time, I have contacted Press Relations at Bernie Sanders' campaign twice by email, but have not heard back.
Bernie, adopt "No New Roads" as an official plank. It's the right thing to do, and it would be yuge.