444 Westminster is the ugly building on the left that looks
like the X Files headquarters.
Thursday, April 16th at 11 AM, if your schedule allows, you should join the League of American Bicyclists and the Providence Planning Dept at 444 Westminster Street. to give your feedback on what Providence needs to become a Bike-Friendly Community. Clearly, as with many Providence Planning meetings, this is not a convenient time. If you can't go, send us your thoughts so that we can present them for you.
Correction:
I was asked by a member of the Bike & Ped Advisory Commission to revise this. The meeting is not open to the public and public comment is not being taken.
You can still of course tweet us your thoughts @transportpvd, but I guess it is what it is.
~~~~
The Rubric
The City of Providence is attempting to get a Bronze designation under the League of American Bicyclists' (LAB) Bicycle Friendly Community program.
Like any other situation where the city is vying for a public honor, this is an opportunity to organize, and should be treated that way. I want to highlight some of the things I think we should push under the existing rubric, and also talk about some of the qualms I have with the rubric itself.
Deemphasized infrastructure The League of American Bicyclists is an important ally for improved infrastructure (engineering) in our communities, but the rubric still treats infrastructure as a bit part in biking success, when it's pretty much the whole game. Filling the rubric with other stuff that doesn't matter very much is one of the big weaknesses to LAB that I hope will be fixed soon.
Historically, LAB was not always an ally to bike infrastructure (as crazy as that sounds).
In the 1970s, especially, the League's president John Forester became the most vocal exponent of "vehicular cycling". LAB under Forester is more responsible than any other organization for America's lousy bike infrastructure--the same forces of OPEC oil shortages, environmental concerns, and fears for schoolchildren's lives were present here as in the Netherlands, but as an organization LAB blocked attempts to think about those problems as having an infrastructural root. Forester's views might have been understandable in their first iteration, but by the 1980s the Dutch had already completed much of their cycling revolution, of which they've only been adding finishing touches to in decades since.
Forester's book
The League of American Bicyclists' membership eventually ousted Forester as president, and today the League is an active supporter of bike infrastructure, while Forester belongs to the far-right American Dream Coalition, an anti-transit and anti-bike group. But the continued presence of things other than infrastructure on LAB's rubric show that Forester lives on in diluted ways. A city can shirk its infrastructure duties and still get pretty good points on other parts of the rubric, and that should concern us as bikers in Providence--a city with no bike infrastructure to speak of.
Imagine a rubric for a doctor. It goes like this: Was he/she nice? What did his/her outfit look like? Did s/he cure my disease? What were the magazines like in his/her lobby? The LAB rubric is like a biking rubric in this model: the magazine choices in the lobby might be pleasant, and having a doctor with a good bedside manner is certainly good too, but what matters is how good a doctor he/she is. What matters for biking success is infrastructure, and giving equal weight to the other aspects is incorrect, period.
Why Is Infrastructure Key?
Saying that education, enforcement, and encouragement are not central to biking success is unusual in an American context, but the norm in places that are actually successful. The Dutch do have intensive bike and driver education for small children, for instance, but bike policy experts from the Netherlands point to infrastructure, not education, as the center of Dutch biking success.
Mis-education The Dutch don't do any of the stuff we educate Americans to do. They have no three-foot pass laws, as highlighted by David Hembrow in the comments section of my article on that subject. They do not wear helmet. Dutch riders barely use hand signals at all, and certainly not the kind of carefully codified ones we have. They don't wear reflective gear. They drink or use marijuana and ride their bikes. They disregard rules. And they wouldn't know what a vehicular cyclist was (see the video above for some illustrations of this).
Not only that, but consider the fact that immigrants to the Netherlands bike in droves, despite having obviously different cultural and educational backgrounds from the natives of their adopted country. While immigrants bike less than the Dutch, they would constitute the next couple of most bike-friendly countries in the world if they were isolated and treated as their own respective ethnic countries. Whatever positive effect the education and culture of Dutch society has on biking for those who are educated through its schools--and it's clear that that effect isn't zero--it's not an overriding one. Immigrants to the Netherlands bike way more than people in Portland, Oregon or Minneapolis, Minnesota, America's crunchiest hipster bike cities. They do so because of infrastructure.
Dis-couragement Encouragement is definitely not important. In Dutch cities, 50-60% of all trips are taken by bike. 90+% of the Dutch public bike regularly, and this is across all incomes and age groups. No one gets "encouraged" to bike in the Netherlands. Biking is the most sensible option for short and medium sized trips there. So people bike.
A lot of bike advocates are still afraid that if we mention the dangerous streets in America, we'll spook people from biking. But the relationship is the opposite: we objectively have spooky streets, and human psychology is hardwired to feel subjectively spooked out by conditions as well. We have to build different streets, not different people.
Bike advocacy is not about marketing.
Enforcement Enforcement is one of those things I somewhat support, but again, it's nowhere near as important as infrastructure, because with the right infrastructure, enforcement is barley needed. If you have 9' residential streets, networks of almost-car-free calm streets, and protected bike lanes on all your arterials, then no one has to seriously worry about a nasty interaction between a bike and a car. If you don't have those, then no budget in the world will be big enough to provide cops to ticket all the people who are speeding, cutting pedestrians off, or honking and swerving around people on bikes.
I think enforcement should be in this rubric, but I think it should be smaller, and should be more dependent on how infrastructure acts as a first-level for enforcing the law.
Special events are a trickier subject, because they have value in my mind if they are used as a tool to organize for better infrastructure. I'm organizing a Bike-to-School Day in Central Falls, but to me the ultimate goal is to crystallize community support and money behind protected bike lanes and pedestrian improvements for school children, not to have a nice biking day. Very few people will permanently pick up biking because of one day's experience.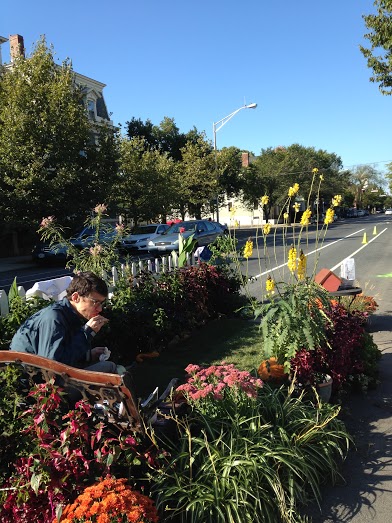 So I would change the LAB question about events. The question should be, "How does your city use events to mobilize for permanent changes?" I noted that one of the problems I saw with Cyclovia was that it modeled something we could never realistically expect the city to do: No mayor was ever going to permanently close several blocks of Broad Street. Moreover, Cyclovia modeled something that was primarily about recreation in a fish bowl; unlike the original Ciclovias in Bogota, Columbia, Providence Ciclovias created no meaningful transportation space at all, and only happened once per location per year, for a total of three events (the Columbian ones happened every single week, and closed miles and miles of highway lanes: the equivalent of closing half of I-95, 146, and I-195 to create bike access all over).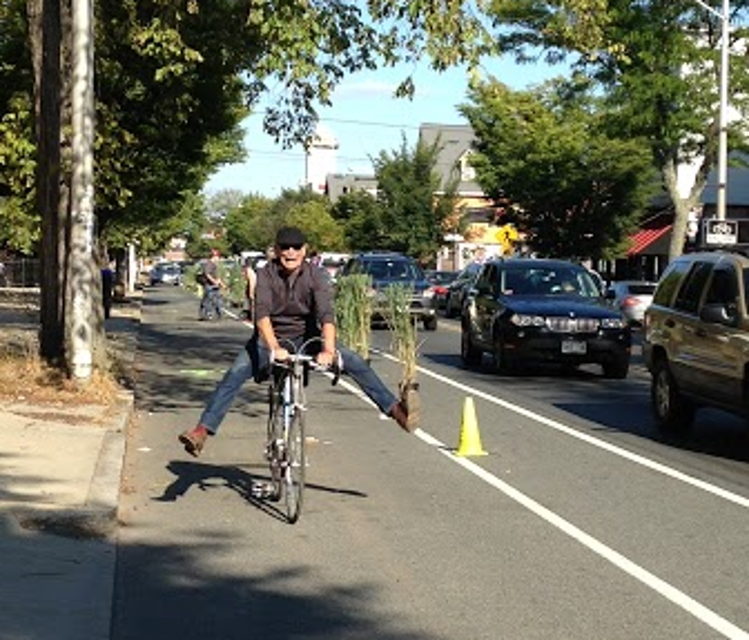 Does your event model something that can be done
On the other hand, biking events that demonstrate things that can happen are good. I've tweeted about Thayer St. being closed for temporary events and due to snow, and I find this exciting because Thayer should be a pedestrian space. Transport Providence worked with AIAri and RIASLA to organize two years of Park(ing) Day; the second of those set up a temporary protected bike lane in order to model what should permanently be done to Broadway, and got Jorge Elorza's campaign to come and table at the event, and got a plank in their campaign to fix the street so that it is truly a bike-friendly space (with painted door-zone lanes, it is not).
Hey Mayor! When are we getting those protected bike lanes on Broadway? Did I mention it's all about infrastructure?
Bike Parking. Meh, okay.
Putting a bike rack in the corner of this won't make people bike.
Bike parking is great, but I'd like to see LAB push on car parking policy more. I kind of feel like the last thing that really keeps me off a bike is where to park, and I expect that as we build a lot of great bike infrastructure, the market will fill bike parking on its own. But what really sours my bike ride is a parking lot, and when the State of Rhode Island and all its Providence Plantations put $43 Million into a new garage, that also sours my ride because its says that 1,200 new subsidized cars are more important than my bike downtown. All the bike racks in the world can't fix that.
When Providence loosens car parking requirements only for buildings that provide bike parking, what that says is that the city is still requiring car parking for buildings that don't meet that requirement. I also have a problem with that.
Providence needs to pass a parking tax. We won't be a truly bike-friendly city (or a poor-friendly city, or a child-friendly city, or a job-friendly city) until we do. We should tax parking lots more than buildings.
What's the Bottom Line?
I'm excited that LAB is here, and am looking forward to working with them. I'd like to encourage people who care about Providence to send their ideas for a more bikeable city so that I can bring them to the meeting, since 11 AM on a Thursday is a fairly ungodly hour to have a public outreach.
As a cycling advocate, what I'm always trying to do is raise the bar for Providence. It would support my work best if League of American Bicyclists told Providence the flat truth: Providence isn't bikeable yet, at all. I would rather Providence not be honored than it get honors it doesn't deserve. And looking forward, I'd like LAB to exorcise the ghost of John Forester, so that the old bastard can't block progress on biking in America any longer. Biking progress is about infrastructure, period.
~~~~