Happy Park(ing) Day everyone!
From The Phoenix: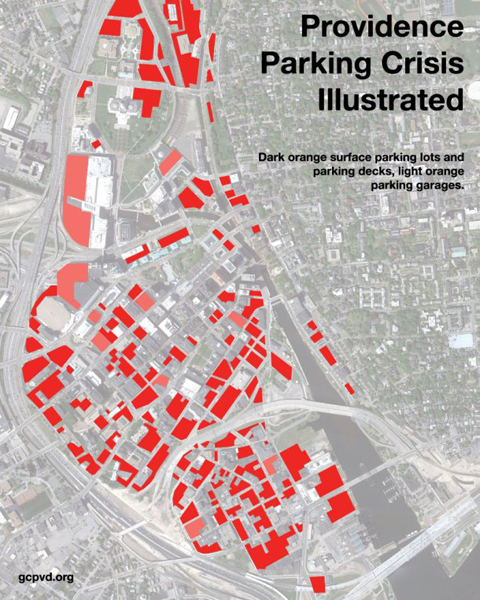 "This past summer, the city of Providence produced a
TV ad
citing parking as a reason to visit. "We have over 15,000 parking spaces!" the Director of Public Space for the Providence Downtown Improvement District said. He's right; approximately half of the surface area in downtown Providence is earmarked for parked cars. But it's nothing to boast about. In fact, for bicycle advocates like me, a walk around the Jewelry District — a neighborhood characterized by huge, gaping surface lots — feels like a visit to post-war Dresden. While it's far from a sexy conversation topic, parking is one of the most important urban planning issues to be tackled by a city, particularly if it wants to become more bike-friendly, as Providence often professes. So with that in mind, and in honor Providence's inaugural Park(ing) Day this Friday, September 20 — a day dedicated to repurposing parking spots as parks, outdoor reading areas, restaurant seating, art installations, and other creative uses — here are a few parking reforms that would greatly improve the city's bike-friendliness. After all, successful high-bike-ridership cities like Amsterdam and Portland, Oregon don't achieve those successes by destiny or magic. . ."
~~~~
A special thanks to Jef Nickerson, who produced the image The Phoenix used. They asked me towards the end of the process what visuals would go well with the piece, and I can't think of anyone who's done more in this city to bring attention to "the parking crisis" than Jef.